Washington Rowing News Archive 2003-2012
Readers please note: Many outside links (ie to newspaper articles, GoHuskies, videos) may have been removed over time by the original poster. All of the content we wrote or provided remains in place.

Archived News 2013-2018 is here: Washington Huskies Rowing - News Archive 2013-2018

8/1: Attention Rick Clothier Teammates, Frosh and Lightweight Rowers, Alums and Friends of Husky Crew:
Summer Reunion 2012:
Celebrate Coach Clothier's Homecoming and Retirement, and reunite with teammates from the entire Clothier era! Everyone is invited:
Where: The Duchess (2827 NE 55th, Seattle, WA); When: Thursday, Aug 9, 2012; 4:30 - 8:00 pm
See You There!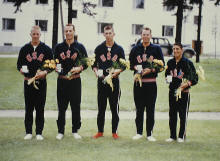 July 25, 2012: It is with sadness that we inform the Washington Rowing Family that Al Ulbrickson Jr. '52, IRA National Champion, Olympic Bronze Medalist at the 1952 Helsinki Olympics, and UW Hall of Fame member, passed away July 6th. If ever there was an oarsman at Washington that was born to wear the W, it was Al. Son of Al Ulbrickson Sr., and coached by the same at Washington, Al was a member of the 1950 IRA squad that swept the river, and held the Varsity Challenge Cup and Ten Eyck trophies on the banks of the Ohio with his teammates, the same way our men did two months ago on the Cooper. Almost 60 years ago to the day, Al, along with teammates Carl Lovsted, Al Rossi, Dick Wahlstrom and Fil Leanderson, captured the bronze medal for the USA in the 4+ at the 1952 Helsinki Olympics. He would go on to write an extensive history of the program for his Master's Thesis, a document that is valuable today as one of the few remaining research papers on Washington Rowing written in the era. The Washington Rowing Family would like to extend our condolences to Al's family, friends, and teammates. More on Al and his Hall of Fame career at Washington can be found here - Washington Rowing History - Men: 1950's; More on Al's life can be found in the Seattle Times obituary here - Alvin Edmund "Al" Ulbrickson.

Mark Your Calendar, You Will Not Want To Miss This:
2012 National Championship Celebration Weekend
October 12-13, 2012
Reception Friday 10/12; Team Will Be Featured During the UW/USC Football Game At Century Link Field Saturday 10/13
Game Tickets, More Info Will Be Here: GOHUSKIES.COM

Make That 24:
7/11/12: Blaise Didier Wins US Trials in 2+; To Senior World Championships In Bulgaria
US Rowing - Seven Crews Victorious at the 2012 Senior World Championship Trials
23 24 Husky Rowers Will Compete On The World Stage This Summer:
2012 Olympics: Twelve Huskies To London
USA Men: Gault (M4-); Lanzone, Newlin (M8+); Otto (Spare)
USA Women: Whipple (W8+); Kalmoe, Martelli (W4x)
Canada Men: Calder (M2-); Crothers, Gibson, McCabe (M8+);Jacob (M4-)
USRowing Announces 2012 Olympic Games Roster
Communiqué: Canadian Olympic Rowing Team Announcement // L'annonce de nomination de l'équipe d'aviron
Olympic Rowing Schedule (Begins 7/28): Olympic Rowing Schedule & Results | London 2012
U-23 Worlds: Eleven Huskies To Lithuania
USA M4+: Labrum, Mannisto, Marre, Rinden - Coach Callahan
USA M8+: Ojserkis, Bunkers, Schroeder, Puttmann, Munn - Coach McGee
USA W8+: Culp
GB W8+: Gammond
Nine Huskies Selected To Compete For USA At U-23s
Culp Selected For USA U-23 Duty
Winning The Norm For Mannisto
U-23 World Rowing Schedule/Coverage (Begins 7/11): World Rowing| 2012 World Rowing Under 23 Championships

Gregg Bell Unleashed: Champions Beyond The Boats

6/12:Washington Frosh To Henley
Grunties To Race At Henley Royal Regatta
Henley Royal Regatta 2012
Will Race In Temple Cup June 27 - July 1
Coverage/Updates Here - University of Washington - Men's Crew

5/25: Husky Fans: Here We Go!
Information On Tents and Tickets For National Championship Events Here - Husky Crew Parents

5/25: Canadian M8+ (Crothers, Gibson, McCabe) Break World Record in Heat at World Cup - 5:19.35
Canadian men's eight rowing team sets world record - The Globe and Mail
Huskies Have Impact As Canada Sets World Record - GoHuskies

5/22: US M8+ Wins Olympic Qualifier
Huskies Guiseppe Lanzone '05, Brett Newlin '05 Point To London

55/5/12: World Class - Thank You Windermere
Husky MV8, WV8 Take Windermere Cup
Huskies On Parade At 26th Annual Windermere Cup
Top-ranked Washington rowers dominate 26th Windermere Cup | The Seattle Times
Windermere Cup and Opening Day Boat Parade - SeattlePI.com




Thank you Windermere For Your Support of this Special Tradition!
Rower Rob Munn, Just Like UW Program, Just Keeps Coming | Jerry Brewer | The Seattle Times

4/14/12: Parents: Here is a note from your 2012 Parent Coordinator Sally Munn - Husky Crew Parents

1/25/12: Rowing Stewards Annual Meeting Wednesday, February 22nd
Conibear Shellhouse, 7:00pm
Original 1/18 meeting rescheduled to 2/22 due to wintry conditions

11/18: Velling, Cypro Win 35th Annual Turkey Trot
Senior Sarah Velling Tops Women's Division, Freshman Nick Cypro Takes Men's

11/3: 2011 Fall Pair Head Champs
Jessen/Lehman Fastest Time Ever; Goodger/Lauber 2nd All-Time
Four Top 10 All-Time Finishes For Men, Two For Women In Annual Inter-Class Event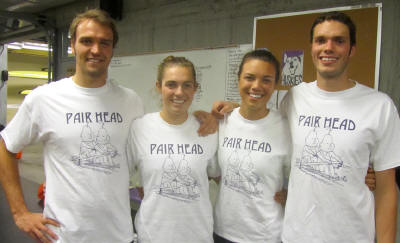 The 2011 Pair Head Champs, left to right: Tom Lehman, Kirsten Goodger, Erin Lauber, and Mathis Jessen. The Pair Head, a tradition since the early 90's, is a highly competitive interclass event for both the men's and women's teams that is an indicator of fall conditioning and training at Conibear. This year saw a significant number of all-time top-10 finishes, including a 1st and 2nd.

11/1: Luke McGee Named US U-23 National Team Director
Remains UW Men's Frosh Coach; New Role Will Oversee the Selection Process for the US U-23 Team
USRowing Taps McGee For U-23 Coordinator Position
Lucas McGee Named USRowing's Men's Under 23 Coordinator for 2012

10/29: Women Take 2nd in Collegiate W8+ at Head of the American
1) USC; 2) Washington; 3) Stanford
Huskies Encouraged By Head Of The American Showing

The 2011 National Champions
All Are Invited: Friday 10/28: Conibear Shellhouse - 6:00 pm Reception; 7:00 pm Program
Saturday 10/29: Husky Stadium, 7:30 pm Kickoff: National Champions Will Be Honored

10/17: Didier, Otto Win Pan Am Gold in US M8+
Ty Otto Wins Pan Am Gold in US 2-
USRowing - 2011 Pan American Games Coverage


2011 World Championships: August 28- Sept 4, Bled, Slovenia
6 Huskies Win World Championship Medals
All Huskies In Olympic Events Qualify Their Boats to the 2012 London Olympics*
Whipple Gold In US W8+
Martelli, Kalmoe Take Silver in US 4x
Crothers, Gibson, McCabe Bronze in Canada M8+
Gault, Lanzone, Newlin 4th in US M4-; Jacob 7th in Canada M4-; Didier 6th in US M2+; Calder 5th in Canada M2-
Look for updates from the athletes here: Megan Kalmoe's Blog; Will Crother's Blog; Mary Whipple's Blog; Dave Calder's Blog

*The number of teams, per event, that can compete at the Olympics are limited. The vast majority of spots are filled at the previous years' World Championships (the 2011 event is exactly that.) Very limited (1 or 2) spots remain open and are raced in a do or die event prior to the Olympics (scheduled in 2012 for May 20-23 at Lucerne). Qualifying your boat at the World Championships does not necessarily mean the individuals in it will then race it in 2012... countries do not have to field the exact same line-up a year later. But it is a major step in the right direction and a huge morale boost to your National Team to avoid the pressure of a late qualification race in the spring, and to know you can focus on the Olympics. Congratulations to all of our Washington athletes for taking this major step for their teams toward London in 2012!!

Thursday 9/1, Day 1 Finals Recap:
5 Huskies, 5 World Championship Medals
"Holy Smokes" - Five Huskies Medal In World Championship Finals

12 Washington Rowers At Worlds
US Men: Gault (4-), Lanzone (4-), Newlin (4-), Didier (2+)
US Women: Kalmoe (4x), Martelli (4x), Whipple (8+)
Canada Men: Crothers (8+), Gibson (8+), McCabe (8+), Jacob (4-), Calder (2-)
USRowing Announces 2011 World Rowing Championships Roster
Rowing Canada - Worlds - 2011 Canada Team

7/24: Munn, Otto, Bunkers World Champions In US M8+
Sebastian Peter Silver in GER 2X
Washington's Marre, Garratt, Brooks, Thompson, Labrum, Coach Callahan = US M4+ (6th)
Puttmann M4- (6th), Simmonds W4- (5th)
Information, Results: World Rowing • Live Results
Husky Oarsmen Bonding Through U-23 Experience

| | | | |
| --- | --- | --- | --- |
| | | | |
| Alex, Rob, Ty | M2X Medal Ceremony | M8+ Medal Ceremony | Huskies |

7/10: Gault, Newlin, Lanzone Take Bronze in US 4- at Lucerne World Cup
Whipple Gold (US W8+); Calder Bronze (Can M2-)
U.S. Wins Four Medals at Lucerne World Cup

6/12: Thank You Alums, Parents and Friends!
Another incredible year for the Washington Rowing Program: congratulations to all of our student-athletes, our coaches and staff, and thank you to our alums, parents and friends for all of the support throughout the year, we could not do this without you!
2011 Race Results, Video, Photos: 2011 Race Results

5/26: Callahan Pac-10 Coach of Year; Bulicic, Jacob, Struzyna, McCabe, Simmonds All Pac-10
Four Huskies Named All-Pac-10; Callahan Tapped Conference Coach Of The Year
Simmonds Receives All-Pac-10 Honors

5/3/11: Bunkers, Munn, Otto, Struzyna Invited to US U-23 Camp - 2011 USRowing Men's Under 23 National Team Camp

4/17/11: Jerry Brewer | Huskies bursting with good coaches, good vibes | Seattle Times Newspaper

4/16/11: Congratulations to our winter quarter women's Dean's List (GPA 3.5+) members, here celebrating together at brunch after practice:

4/16/11: Washington Women on Union Bay:

4/15: Nicole Minett To Step Down As Women's Novice Coach
Will continue through the end of the 2011 novice season
Minett Resigns As Women's Novice Coach

4/6/11: No one understands how hard Husky rowers work, other than Huskies: Tavalero Gives Rowing Staff Husky Heritage

4/4/11: Washington teammates Madison Culp, Kerry Simmonds, and Michelle Darby are 3 of the 18 U.S. collegiate athletes invited to the Women's U-23 National Sweep Rowing Camp this summer. In addition, both Erin Lauber and Arianna Tanimoto were selected as alternates. Congratulations Huskies! USRowing Team Taps Five Huskies For 2011 U23 Camp

4/4/11: The varsity men took the weekend to train at Lake Samish near Bellingham, a throwback to the 70's when Dick Erickson would take his team to The Firs for spring break. Besides the opportunity for a change of scenery, as you can see from the photos, there is good reason to train on Lake Samish... the water, in the morning, can be glass:

3/17: An inside look at the Ham'n'Egger... thank you UW Athletics and Jeremy Cothran!

3/2: Windermere Cup 2011 To Feature Cambridge, Stanford, Oklahoma
UW Will Host Cambridge, Stanford & Oklahoma In 25th Annual Windermere Cup
Cambridge Men and Women, Stanford Men, Oklahoma Women Will Compete With Washington For 25th Windermere Cup
Saturday, May 7, Montlake Cut

2/20/11: McCabe, Struzyna Go 1-2 At CRASH-B's
30TH WORLD INDOOR ROWING CHAMPIONSHIPS - DANES, HUSKIES DOMINATE - C.R.A.S.H.-B.
McCabe 5:48 Trifecta: Wins Open/U23/Collegiate; First Canadian To Win Men's Open Event At CRASH-B's
Struzyna 5:52.6; Heppner 6:01.3
McCabe Leads Charge For Huskies At C.R.A.S.H.-B Sprints



Coach Callahan with his UW teammate Roberto Blanda '95 at the 2011 CRASH-B's (Blanda took 2nd in the senior 40-49 div with a 6:12)

Conlin McCabe (5:48) takes the Men's Open Hammer at the 2011 CRASH-B's. Hans Struzyna (5:52) 2nd, Stephen Dudek (5:56), Wisconsin, takes 3rd.

Framing hammer, as in put a frame around it if you win one of these.

2/18: Rowing Trio To Test Erg Strength At C.R.A.S.H.-B Sprints

2/3/11: The Washington Rowing Family would like to extend our condolences to the family and friends - and there are many - of Hart Perry, who passed away February 3rd. Hart was officially the Executive Director of the National Rowing Foundation, an organization with a major influence on the sport in the U.S. But he was way more than that. His life was devoted to the sport. A leading proponent of youth rowing in the U.S., former high school and college coach, judge/referee, a founder of the Rowing History website and museum, ... his positive influence and commitment to the sport has been felt, directly or indirectly, by virtually every competitive rowing program in the U.S. today. That includes the 2010 Washington men's frosh eight, winners of the Temple Cup at Henley; Hart, also a Henley Steward (and member of the Leander Club), not only valued the experience of rowing at Henley, but was instrumental in helping us get there organizationally.
But beyond the profound impact he has had on our sport and program, Washington also has a personal connection to Hart. He is Colin Syke's step-father. Our thoughts go out to Colin and his mother Gill, and condolences to the many friends he has within our program. Hart will be deeply missed.

2/1/11: The Coxswain's Experience At Washington
Sophomore Seamus Labrum With a First-Person Narrative on Coxing at Washington

1/31/11: Check Out This Week's Row2k Interview: row2k Interview - Washington's Ty Otto

It was standing room only Wednesday, 1/19 at the 2011 Washington Rowing Stewards Annual Meeting, where a cross-generational group of alums and friends met to discuss the program. Coaches Ernst and Callahan reviewed where we are today and the goals for the coming months/years, with specific detail on the budget. Look for this dialogue to continue as we consistently work to improve the communication with our alums, friends and parents - the Stewards of this amazing program! Thank you to everyone who attended... a special thank you to our outgoing chair John Wilcox... and a big welcome to incoming chair Chuck Turbak!! (photos: Ellen Ernst)

| | |
| --- | --- |
| | 11/20/10: Sarah Velling '12 and Beddome Allen '13 are your 2010 Turkey Trot victors and take home the coveted "Tender Gold" turkeys. Alum division winners were Ian Sawyer '04 and Kara Farquharson '06...first time ever a (newlywed) married couple have taken home the prized alum chocolate turkeys! Congratulations to all of the winners, and thank you to the coaches and athletes for a terrific event! Photos - Fall 2010 |

John Wilcox '61, outgoing chair of the Washington Board of Rowing Stewards, was honored by the University November 18th, 2010 with the Dave and Ruth Cohn Award for outstanding service by a former student-athlete to the UW Athletic Department. Wilcox, who has served as chair since 2005, has been tireless in his efforts to strengthen the financial backing of the program, and was thanked by Senior Assoc. Athletic Director Jen Cohen, athlete representative Rob Munn, and program director Bob Ernst. Congratulations John, and thank you (and the entire Wilcox family!) for the countless hours you have put into this effort and your dedication to the Washington Rowing Program. More -

Former Husky Oarsman Wilcox ('61) Honored With Dave & Ruth Cohn Award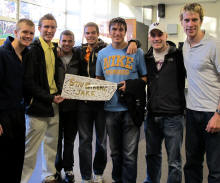 It is with a heavy heart that we tell you that Jake Snyder, twenty-one year old brother of Katelin Snyder '09, passed away November 11th. The accompanying photo, taken a few weeks ago, reflects the solidarity the team had with Jake and the Snyder family as he battled cancer (the oar was sent to Jake). The Husky Crew Family extends our deepest condolences to Katelin and the Snyder family, and to all of Jake's friends and teammates. - November 13, 2010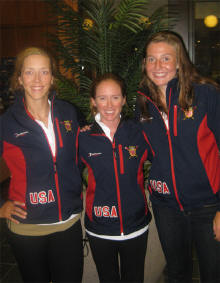 Update 11/6 (11/7 NZ):Whipple Wins World Gold in US W8+
US W8+ With Huge 3rd 500m World Champions By Length
US M8+ 6th, Canada M8+ 7th (Wins B Final)
Whipple & USA 8+ Are Golden At World Rowing Championships
Update 11/5 (11/6 NZ): Grobler Silver In US LW4x
Update 11/4 (11/5 NZ): Martelli Bronze in US W4; Lanzone US M4 5th, Kalmoe US W4x 5th
Results: World Rowing - FISA

10/30:11 Huskies In New Zealand In Hunt For World Gold
Calder, Crothers, Gibson, Jacob, McCabe in Can M8+; Gault US M4x; Lanzone US M4-; Newlin US M8+; Kalmoe US W4x; Martelli US W4+; Whipple US W8+
World Championships Set To Begin For Husky Rowers
Will Crothers Blog With Some Great Pics for Husky Fans
Megan Kalmoe's Blog
Pursuit of Olympic Gold - Article on Ursula, Abby and Carlos

9/16: Five Huskies Named to Canadian World 8+
Michael Callahan: "I am thrilled that we will have three generations of Huskies representing our program at the World Championships"
Calder '01, Crothers '09, Gibson '09, Jacob '11, McCabe '12; All Will Row in Canada's Senior Men's 8+
Put it on the calendar: 2010 World Rowing Championships, Lake Karapiro, New Zealand 10/30 - 11/7
Five Huskies Tapped By Rowing Canada For World Championships
Today's special: Woolly Jumpers - Wanganui Chronicle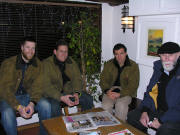 9/17: Friends of Ran: The memorial service has been set for Sunday, Oct. 3, 2010 at the Center for Urban Horticulture at the U of W. at 1 pm. Also, check out the exceptional piece written by Jeremy Cothran on GoHuskies here about Ran and his influence on Husky Crew: Hennes Touched Lives Of Husky Student-Athletes
9/15: Receiving word this morning that Ran Hennes, UW History Professor, rowing alum, and longtime friend of Husky Crew, has passed away. You could find Dr. Hennes at the Totem Pole at the entrance to the Cut - winter/spring/summer/fall - at every race. Before retiring he was Director of the Arts and Sciences honors program at Washington, and became a mentor to many of the rowing athletes at Washington, even joining the team on the trip to Oxford in the spring of 2009 (seen next to Luke, Michael and Carlos on that trip in the accompanying photo). He was truly a friend, in all aspects of the word, to the Washington Rowing Program and will be greatly missed. The Husky Crew family offers our condolences to Dr. Hennes' family and friends.

8/28: Nora Taylor McGee was born at 9:20 a.m. August 25 to proud parents Luke and Portia McGee. Congratulations Luke and Portia from all of the Husky Rowing Family! (Quick - someone get them to sign a letter of intent for Nora for the class of '32!!)

8/13: Jon Rider '63, Washington Rowing Steward and former Executive Director of the Washington Alumni Association, passed away August 10th. A 27-year veteran of the Marine Corps - including three tours of duty in Vietnam - Jon was instrumental in re-shaping the UW Alumni Association in the mid-90's. "Passionate", "gung ho", "leader", "mentor" are all words used to describe him. And he is credited with still one of the better stories that came out of the 60's at Conibear (read about that here, 1960's, year: 1963, last photo). Jon's family will be running a marathon in his honor -- more about that here - Coalition for Pulmonary Fibrosis - Rider Kids Fundraising Page. The Washington Rowing Family extends our condolences to Jon's family, friends and teammates.

A message from our Parent Coordinator Sally Struzyna to all Husky Crew Friends, Alums and Parents:

You are invited to participate in the

4th annual Dave McLean Memorial Golf Classic

, a great tournament for alumni, friends and families of Husky Crew. This year's tournament is Saturday August 14th, 2010 and will be held at

Washington National Golf Course.
You can register as an individual, or put together your own awesome foursome. The tournament is open to men, women, rowers, coaches, non-rowers, parents, friends, and alums; basically anyone who can swing a club! You non-golfers can register for the dinner program/auction and join your golfers as they celebrate success on the greens. More information is here -
Dave McLean Golf Classic
or here -
Husky Crew Parents

7/25: Huge Day At U-23's For Washington Rowers
Simmonds World Champion in USA W8+;
Otto, Munn, Didier Silver in USA M8+; McCabe, Jacob Silver in Can 2-
World Rowing - 7/25 Grand Final Summary
Women's Eight Wins Gold, Three Others Medal on Sunday at the 2010 World Rowing U-23 Championships
Two Medals for Canada At World Rowing Under 23 Championships

7/8: Didier, Munn, Otto Named to US Men's U-23 8+; Struzyna 4x
McCabe, Jacob To World Cup July 9-11
Several Huskies To Compete At Rowing World Cup

6/17: Simon Taylor Nets Pac-10 Spring Scholar-Athlete Of The Year Award
Washington Places 24 on Pac-10 All-Academic Team
Huskies Well-Represented On Pac-10 All-Academic List

5/27: Michael Callahan Named Pac-10 Coach of The Year
Lang, Struzyna, Jacob, McCabe All Pac-10; Heppner Newcomer of Year
Mack, Martelli All Pac-10
Callahan Named Pac-10's Top Coach; Five Rowers Honored As All-Pac-10
Mack, Martelli Named All-Pac-10

5/19/10: Seven Huskies could have a busy summer: Seven Husky Rowers Selected For U-23 Opportunities - GoHuskies
4/08/10: A couple of good articles in the April 2010 edition of Seattle Business Magazine featuring Washington Rowing connections: A Shell Game | Seattle Business, an extensive article on the Pocock shellbuilding business, and The Crew Crew | Seattle Business, an article on the life-long bonds made at the crewhouse that extend to the business world. John Kueber '93 is the Group Publisher for Seattle Business Magazine.

4/05/10: Dave Calder '01 is back in the hunt for his 4th Olympics. Good article on his most recent comeback but even better, page down and watch him trying out the single - Rower Dave Calder Back In The Boat Seeking Olympic Gold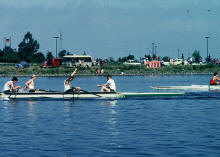 3/31/10: It is with sadness that we announce that Dave Baugh '85, 3-year Washington letterman and long time coach of the Greenlake Crew, passed away Friday, March 26th. Dave was a tough competitor, coxing the 1st frosh boat in 1982, winning the Pac-10's with the lightweight team in 83 (see photo to the left), traveling to Henley in 1984 and finishing his career in the second varsity in 1985. Along the way rowing became his passion, and after graduating from law school, Dave became the women's head coach at Greenlake, coaching there for nine years. A facebook page has been set up in memory of Dave here - In Memory of Dave Baugh - Green Lake Rowing Coach. The Husky Crew family extends our sympathy to Dave's family, teammates, and students. Memorial Service/Celebration of Life
Date: Sunday, May 2nd at 1:00; Pocock Rowing Center (3320 Fuhrman Avenue East, Seattle, WA 98102)


3/30/10: Men's Rowing With Highest GPA for Winter Quarter
2nd Consecutive Quarter Team Receives Top GPA For Men's Athletics At Washington
Husky Crew's Expanded Education Page - UW/Education
The February Article from Go Huskies: UW Rowing: Taking Advantage Of Academic Opportunities At Washington

3/29/10: Two of our rowing alums will receive 2010 Awards of Excellence June 10th (Meany Hall) from the University of Washington. Bruce Nordstrom '55 will be honored as Alumnus Summa Laude Dignatus, one of the highest honors that the University can bestow on a graduate for a lifetime record of achievement: The Keeper of the Nordstrom Way - Columns Magazine June 2010. Lex Gamble '59, and wife Diane, will receive the Alumni Association Distinguished Service Award, given to individuals who make outstanding efforts on behalf of the UW Alumni Association: Lex and Diane Gamble: Alumni Association Distinguished Service Award — University of Washington. Congratulations Bruce and Lex!

A couple of pics from last Fall but worth posting -- The swim test.
Thank you Jason Scott:

3/20/10:1965 VBC Banquet Audio: George Pocock on Harmony, Balance, and Rhythm
(Including Remarks on Tenacious Crustaceans and Setting a Boat Free...)
"Harmony, Balance, and Rhythm. They are the three things that stay with you your whole life. Without them, civilization is out of whack. And that's why an oarsman, when he goes out in life… he can handle life. And that's what he gets from rowing. Harmony, Balance, and Rhythm. Mark those words."
Head Coach Fil Leanderson as MC Introduces Pocock: 1965 VBC Banquet: Fil Leanderson (2:15 minutes, 2.1 mb mp3 file)
George Pocock: 1965 VBC Banquet: George Pocock - (12:30 minutes, 11.3 mb mp3 file)

3/18/10: Congratulations to Adrienne Martelli, Jennifer Park, Kerry Simmonds and Ariana Tanimoto; Martelli invited to the US Rowing elite training camp this summer, and Park, Simmonds and Tanimoto all invited to the U-23 Camp. Four Huskies Selected For U23 National Team Camp

3/18/10: Giuseppe Lanzone lands in the WSJ with a suit on: Men's Spring Suits Modeled by Athletes - WSJ

3/9/10: 2010 Windermere Cup: Oxford, Syracuse To Race Huskies
Familiar Faces, Great Competition for 2010 Event
Huskies To Race Against Oxford And Syracuse In 2010 Windermere Cup
Windermere Cup 2010 - The Stewards' Enclosure
Photos and Huskycrew.org coverage of the Washington trip to Oxford last year: Oxford/London 2009

3/8/10: Everything you wanted to know about the ham'n'egger: Ham N Eggers A Tradition At Washington. Pics here from the 2/22/10 ham'n'egger: Training '10

2/15/10: Rob Gibson honored: Rob Gibson, silver medalist in the Canadian 8+ at the Senior World Championships (and captain of the IRA Champion Husky V8!) is one of 11 finalists for the Amateur Athlete of the Year Award in his hometown of Kingston, Ontario. The winner of the Gus Marker Trophy will be announced March 5th. Congratulations Rob! Elite eleven named - The Whig Standard - Ontario, CA

Men's Rowing Garner Highest GPA for Fall Quarter
Sam Ojserkis Highest GPA for All Men's Sports
Check out the New, Expanded UW/Education Section of Huskycrew.org Here - UW/Education
UW Rowing: Taking Advantage Of Academic Opportunities At Washington
2/01/10: Highest GPA for the Quarter: Congratulations to our men's team, who garnered the highest team grade point average among UW large men's teams for autumn quarter 2009. Further congratulations to Sam Ojserkis, who received the highest grade point average among University of Washington male student-athletes for autumn quarter 2009.

1/26/10: Another First for the 1936 Team: Ok, so this one may seem obvious to most of our friends and fans, but we never get tired of seeing our guys in the news: When did UW win its first Olympic gold medal?

1/21/10: Kayleigh Mack: "About as tough as they come": Mack Focused On Winning

1/19/10: The Seattle Sports Star of the Year unveiled the public's choice for 2010 Sports Star of the Year, and once again the 1958 team brings home honors, this time as the "Top Sports Story of the Last 75 Years". Congratulations guys! Our 2009 men's National Champion varsity 8 were also nominated as Male Sports Star of the Year, that award going to fellow UW student-athlete Jake Locker. A great event and fun had by all. Legendary 1958 Crew Voted Top Sports Story For Last 75 Years Thank you Lenny for the photos:
| | |
| --- | --- |
| | |
| The 2009 National Champions, left to right: Coach McGee, Max, BJ, Hans, Rob, Jesse, Anthony, Will, Simon, Coach Callahan | Washington Tradition: The 1958 V8 with the 2009 V8 |

1/16/10: Hall of Famer Norm Buvick '50, has passed away. Four-year letterman and team captain, Buvick was as purple and gold as they come. He also was as much of a mainstay in the varsity boat as they come, one of the very few Washington athletes to letter four years, rowing in the '47 freshman crew (IRA Champs) that went on to represent the school at the 1947 Seattle Sprints in front of an estimated 150,000 spectators. But the IRA championships did not stop in '47. His teams went on to win the Varsity 8 Challenge Cup at the IRA's both in '48 and '50, capping IRA sweeps both years. The class of '50 were a dominant class, and they elected Buvick captain in 1950, a testament to his work ethic, his rowing skill, and his fiery determination to win.
Buvick is now the second member of this special group of men to pass away in a month, his friend and teammate Rod Johnson (see post 12/29/09) preceding him by a few weeks. But for all of these men, they will be remembered by the Washington Rowing family as a group that ushered in a new era at Washington following WWII, and will always be honored on these pages and as members of the Washington Hall of Fame. Google has archived 18 photos from the June 20th, 1949 LIFE Magazine article on this team, including a good photo of Norm here - Washington Rowing Source: LIFE. The entire Washington Rowing family extends our sympathy to Norm's family and teammates. Norman_S._Buvick_1924-2010. More on the 48-50 Hall of Fame team in the History section: 1940's; 1950's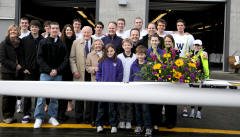 1/16/10: Members of the McCurdy family, along with oarsmen from the class of '12, stand with the newly christened Tom McCurdy '52. This new gift from the McCurdy family is the latest in a tradition that spans decades for this generous family. During the ceremony, the shell was splashed with finish line water from the Montlake Cut, and rowed for the first time through the opening. A sincere thank you to the McCurdy family and a solid "Go Huskies!", and may this latest McCurdy shell see the same success as the many that came before it! More on the McCurdy shell dedication is here - Huskies Dedicate Tom McCurdy '52 With Ceremony - University of Washington.




1/5/10: Winter Camp, San Diego: Our athletes are home from the winter mini-camp in Southern California, but not after some serious water time, cross-training, and team building. Some selected photos below, thank you Colin, and a good article from GoHuskies on the competition leading into this trip and the ARCO Olympic Training Center: A Prelude To Winter Training


12/29/09: Hall of Famer Rod Johnson '50, has passed away. A cornerstone of the dominant '48 - '50 UW crews, Johnson was a founding member of the Ancient Mariners, and rowed on Lake Washington up until the very end of his life. He also stayed in close contact with Husky Crew, and will be greatly missed. The entire Washington Rowing family extends our sympathy to Rod's family and teammates. G. Johnson Obituary: The Seattle Times. More on the 48-50 Hall of Fame team in the History section: 1940's; 1950's


The 35th Annual Turkey Trot was run Friday, November 20th: The photos below only tell half the story, the rest you alums will have to remember from your past. Congratulations to Beddame Allen (freshman walk-on) and Adrienne Martelli (3-time champ) for the wins. Alum winners were Dave Van Bolt '08 and Denni Nessler '98. A lot of fun, and some terrific intrasquad competition for the entire team:
| | | | |
| --- | --- | --- | --- |
| | | | |
| Pre-race Warm-up | The Start | Awards | Adrienne and Beddame |

11/15: Didier/Otto Win USRowing West Coast 6k 2- Speed Order
Washington Continues To Develop U.S. National Team Hopefuls
West Coast Competition Held in Oakland; East Coast Competition At Princeton 11/14-15
Washington '08 Olympians also competing include West Coast: Scott Gault (1x); East Coast: Megan Kalmoe (1x), Giuseppe Lanzone (1x), Brett Newlin (2-)
2009 USRowing West Coast Fall Speed Order
2009 USRowing East Coast Fall Speed Order

November 8, 2009: HOL: Huskies Win Men's and Women's Collegiate/Open 8's
Take First in WJV8, W4+; Men's Open 4+ Finish 1,2,3
Results
Success Reigns At Head Of The Lake Regatta
| | | | |
| --- | --- | --- | --- |
| | | | |
| Men Open 8 | Women Open 8 | Women 2V8 | Men Open 4+ |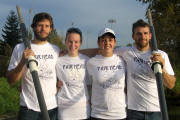 11/4/09: The 2009 Pair Head Champions, left to right Blaise Didier, Hanne Trafnik, Kerry Simmonds, and Max Lang. The pair head course - different from the lighthouse course - runs from Lake Union, through Portage Bay, through the Cut to the lighthouse at Webster point, and home to the shellhouse, a distance over 3 miles. This intrasquad race has become a tradition at Washington, the annual winners' photos permanently displayed at Conibear.
Photos from the 2009 Pair Head Race 11/4/09:

Update 11/4/09: McCabe/Jacob Win National Championship: Pair Of Husky Rowers Pick Up Impressive Win In Canada

Canadian National Rowing Champs Wrap up in London
11/03/09 - Anthony Jacob and Conlin McCabe advanced directly to the finals today of the men's pair at the Canadian National Championships in London, Ont. by winning the overall time trial. Jacob, a UW junior, and McCabe, a UW sophomore, bested their 2009 teammates Will Crothers and Rob Gibson, who finished fifth in the time trial and advance to the A/B semis. The regatta reads like a "who's who" of Canadian oarsmen, including members of the 2008 Olympic Champion eight and many members of the U-23 and senior national team. The final will be tomorrow, 11/4. More information: Rowing Canada - NRC - 2009 Preview

10/18/09: "Great 8's" Win Both Men's and Women's Champ 8's in Heavy Snow
Washington Men 3rd; Women 5th
Full Coverage, photos - 2009 Head of the Charles

10/10/09: National Champion Rowers Honored at Husky Stadium
Sally has photos on our new Parent's Page - Husky Crew Parents
National Champion Crews Honored At Arizona Game

8/30/09: Snyder, US W8, World Champs
Gibson, Canada M8 Silver, McCabe Canada M2+ 4th
Two Huskies Earn Medals On Final Day Of World Rowing Championships
World Rowing Championships

8/24/09: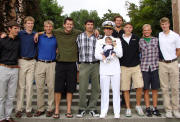 John Collins and friends at his officer commissioning ceremony. This photo is timeless - it just as easily would fit in the history section in the 40's, 50's, 60's and on. We include it here for our alums and friends who know that as things change, they also stay the same. A man of character, a quiet leader at the shellhouse, John is flanked here by fellow Washington oarsmen, from left to right: Trevor Walchenbach, Ty Otto, Niles Garratt, Ben Fletcher, Roko Svast, John, Blaise Didier, Hans Struzyna, Kit Culbert, and Casey Dowbrowlski. Congratulations John!
8/21/09: 2010 Women's NCAA Championships at Sacramento - WSU will be the host school for the May 28-30 Regatta: NCAA Awards Site For All 2010 Women's Rowing Championships to Washington State University - NCAA.org
8/15/09:
Thank you Pete, the McLean family, and all of the friends and alums of Husky Crew who supported the 3rd Annual Dave McLean Golf Classic for a great day at Washington National!

8/7/09: Gibson (M8), Lang (M,2-), McCabe (M,2+), Named to Canadian Senior National Team
Seven Husky Rowers Named To Senior National Teams
7/30/09: Newlin (M4-), Lanzone (M4-), Snyder (W8), Kalmoe (W2x) Named to US Senior National Team
Six Crews Named to 2009 World Championship Team

7/29/09: Wyatt Allen Named Assistant Coach at Cal - Washington Varsity Assistant Coach Wyatt Allen has been offered and has accepted the open assistant coaching position at California. Allen leaves Washington after taking a lead role with the second varsity in the 2008-2009 season. Our seasoned fans will recognize this particular crew as having an outstanding year, their one loss coming at San Diego in the first regatta of the season; after that, the team committed to improve with each race, and did exactly that. Double wins at the Windermere Classic against Stanford and Wisconsin, a solid Dual win vs. Cal, and a Pac-10 championship in 100 degree heat were the set up for one of the most impressive IRA rows seen in a long time. In that IRA race, the 2V8 went faster than the competition in each and every 500m split, pulling away from the pack for an open water win. As a visibly proud Allen said at the IRA Celebration at Conibear "I think they were one of the three fastest varsity crews there... ", which conjures up shades of 1937, but we will cover that when we write the history of 2009.
Michael Callahan, men's head coach, said this about Allen: "Wyatt is a champion, and its good to have champions around your boathouse. We will miss him up here and we wish him all the best at Cal. We are looking forward to continuing the spirit of competition between California and the University of Washington." Congratulations Wyatt from the entire Washington Rowing family and see you next year (many times)! California press release here - Wyatt Allen Joins Cal Men's Crew Coaching Staff


7/24/09: Roger Morris, Bow of '36 Olympic Crew, Dies at 94
Huskies | Huskies' last surviving member of 1936 Olympic-gold crew team dies


7/17/09: Megan Kalmoe named to 2009 Senior US National Team - Stay in touch with Megan at her frequently updated blog - Megan Kalmoe's Blog

6/16/09: Mariners to Honor Husky Crew Saturday, 6/20, 7:00 pm; V8 to Throw First Pitch - Husky Varsity Eight To Toss First Pitch Saturday At Safeco Field
6/08/09: Hanne Trafnik is profiled in this article on GoHuskies: Trafnik Balances Crew, Design
6/05/09: Congratulations once again to Adrienne Martelli (1st team) and Kayleigh Mack (2nd team), now announced as 2009 Pocock All-Americans. CRCA News :: Collegiate Rowing Coaches Association Name Pocock Winners. Congratulations Adrienne and Kayleigh!
5/29/09: Steve Kelley | The Zen of Crew: heaven and hell on the water | Seattle Times Newspaper Michael Callahan: "Here at Washington we've had our George Pococks, our spiritual leader. But he's also the engineer. He's been building these boats. That is rowing. It's the combination of those two things. I think that's its beauty. The mixing of art and engineering together."
5/23/09: Congratulations to Adrienne Martelli and Kayleigh Mack, named to the CRCA All-West Rowing team: Adrienne Martelli And Kayleigh Mack Named CRCA All-West Region
5/21/09: Isabelle Woodward was named today to the College Sports Information Directors Association Academic All-District Third Team. Woodward carries a 3.75 grade point average in International Business Administration. Congratulations Isabelle! 2009 COSIDA Academic All-America Team
5/08/09: Congratulations to Jesse Johnson, Blaise Didier, and Hans Struzyna on their selection to the US U-23 camp this summer - Three Husky Oarsmen Invited to U-23 Camp

4/11/09: Dual vs. Duel: Why is it called a Dual Regatta when it really is a "duel" between 2 schools? We get this question regularly so we thought we would put it in our latest news section at the beginning of the season. A "Dual Meet" is an athletic competition specifically between two opposing teams (not an invitational, open, or championship meet) and is traditionally used in racing sports, i.e. track and field, rowing, swimming, etc. to denote a competition directly between two schools/clubs etc. The rowing world generally removes the word "meet", usually replacing it with regatta or race, although sometimes just shortening it to "Dual". Technically that's where the problem comes in: the word gets changed from an adjective to a noun. The word duel is a noun that refers specifically to a formal fight, usually to the death, between two people. Could we figuratively call some of these historical dual regattas duels? Probably. Could they have come up with a better set of words than "dual regatta"... to describe a race between two teams? Probably. But it's tradition now, and Huskycrew definitely does not go against tradition!
4/02/09: Congratulations to Alison Browning, Adrienne Martelli and Jennifer Park and freshman coxswain Ariana Tanimoto on their selection to the US U-23 camp this summer - Four Women's Crew Members Invited To U23 Selection Camp
3/18/09: Seattle Pacific names Erin O'Connell its first woman athletic director | Seattle Times Newspaper - Congratulations Erin!
2/25/09: HeraldNet: Gold-medalist rower Anna Cummins helps teach others to 'dream big'
2/5/09: Unnoticed dynasties offer small-scale excitement to fans

3/1/09: Results/Photos/Video/Posts from the Oxford trip here - Oxford London 2009
2/1/09: Washington Men's V8 to Row With Oxford in London
GoHuskies: Washington Men's Varsity Eight To Take On Oxford Sunday
Huskies cross the pond to race Oxford in a pre-Boat Race fixture
Nine student-athletes to make trip Feb. 27 - March 1
Will include a Pre-Boat Race "fixture" with Oxford on the Thames
2008 Olympian Ante Kusurin of Oxford to greet, row opposite his former UW Teammates

1/28/09: Former UW Rowing Team Revisits Site of Cold War Upset Victory - article features extensive interview with John Sayre, 1960 Olympic Champion and stroke of the UW 1958 V8 - More on the 2008 Moscow visit is here - 2008 Moscow Race of Champions

11/08 - Washington Men's and Women's 8's Win 2008 Head of the Lake
Men's varsity race in 4's; Frosh 8 wins Men's Collegiate; Women's V8, 2V8 defeat WSU
Results: 2008 Head of the Lake Results

Course reverts back to "classic course": 3-miler starts in Lake Union and ends at Conibear
Washington Crews Set To Compete at Head of the Lake
Crew teams look for success at Head of the Lake Regatta
UW rowers split up for test
More information is here - Head of the Lake Regatta - 2008 - Lake Washington Rowing Club
Preliminary Schedule - Regatta Central


Photos from the events honoring the Rowing Team and Olympians 10/26 - thank you Ellen Ernst
| | | | |
| --- | --- | --- | --- |
| | | | |
| '08 Olympians Anna, Mary, and Megan | UW President Mark Emmert with Anna, Mary, and fellow UW Olympic gold medalist Hope Solo (soccer) | Michael, Rob, Megan, Anna, Mary, Dave (with daughter) and Bob | |
| | | | |
| | | | |
| | | | |
| | | | |

10/19: Husky Men Win Head of Charles Champ 8
Photos here - 2008 Head of the Charles
Brown 2nd, French Natl Team 3rd, Cal 4th
Results before penalties: Washington 14:28.09, Brown 14:29.78*, France 14:30.48, Cal 14:33.52, Wisco 14:41.32
Wisco penalized 1 minute for course violation, fall to 30th
* Note: Official results at Powerhouse Timing showed Brown with a one minute penalty until corrected 10/20
Washington wins at windy Head of the Charles - USATODAY.com
Washington Men's Crew Wins Head of the Charles Regatta - GoHuskies.com
Washington proves a great eight - The Boston Globe
World Rowing - Chilly Conditions But Fast Times at HOCR

Husky Women 2nd Collegiate Crew in Head of Charles Champ 8
Finish 6th Overall; Canadian Natl Team 1st, Dutch Natl Team 2nd; Yale only Collegiate Crew to Finish in Front of Huskies; Washington Finishes Ahead of Brown, Princeton, Harvard and Stanford in that order

Head Of The Charles® Regatta Results

Men's and Women's V8's Will Compete in Championship 8 Event Sunday, October 19th
University of Washington: Crews to Compete at 44th Annual HOC

The Simpson Family's Generosity Lives On:
10/12: The Hunter - Racing shell's history alone is worthy of a gold
"As was the case before, the shell comes home. It will be the (UW's) number one shell while it's competitive."

10/04: Husky Men Take 2nd in Oklahoma City
Finish two seats back in 500m Nightsprints Final to Harvard on Oklahoma River
Results here - Event Results
More info here - OKC BOATHOUSE FOUNDATION CHAMPION SERIES EVENT

9/06: Washington Alums Third in Moscow
Sayre, Alm Join Team on 50th Anniversary of '58 Win
More Here - 2008 Moscow Race of Champions

8/24: Congratulations Huskies on an Amazing 2008!
From Olympic Gold to Henley Grand to San Diego V8 Sweep
IRA Team Gold, NCAA Team Silver, Pac-10 Men's Sweep, U-23 Gold
The Alums, Friends and Parents of Washington salute all of you... and to our seniors, best of luck in the future and see you at the races!

8/17: Whipple, Cummins Olympic Champions in USA W8+
Calder Takes Silver in Canadian 2-
Volpenhein Bronze in USA M8+
Steve Kelley - Longtime teammates now have gold in their grasp
Wire to Wire Win - The Official World Rowing Web Site - Results
Seattle P-I - Ex-UW pair take U.S. boat to gold in Beijing
Seattle Times - Gold for U-Dub's Whipple, Cummins in U.S. women's eight
Art Thiel - U.S. men rally to win bronze in rowing

8/15: Olympic A Finals: Calder (Canada M2-), Cummins (US W8+), Gault (US M4x), Kalmoe (US W2x), Volpenhein (US M8+), Whipple (US W8+) Will Race For Gold
M2-, W2x Finals Sat. 8/16; M4x, W8+, M8+ Finals Sun. 8/17
(Check the schedule - Finals will go between 12:30 a.m. and 2:30 a.m. Seattle time)
Rowing Schedule for 8/16 - BEIJING 2008 Olympic Games
Rowing Schedule for 8/17 - BEIJING 2008 Olympic Games
Live Coverage (pdt): 2008 Beijing Summer Olympic Games | TV & Online Listings | Viewing Schedule | NBC Olympics
...and an Art Thiel Column on Bryan to pass the time before Sunday...Seattle rower can stand heat of kitchen and competition

8/13: Olympic Bus Carrying Croatian Rowing Team in Serious Automobile Collision in China
Ante Kusurin ok; competes in semi-final hours later, comes up just short of A Final
more - Croatian rowers in bus crash - 2008 Olympics - SI.com
Huskycrew and the Washington Rowing Family extends our thoughts to Ante and his team; one can only imagine the unbelievable mental and physical effort made to compete at this level after this kind of event. For those of you who know Ante, this would probably be a good time to check in with him.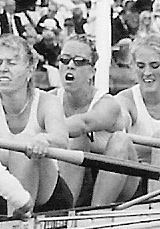 8/4: Bob Ernst announced today that Nicole Minett '01 will be the new women's frosh coach beginning this fall. Minett, who rowed at Washington as Nicole Borges, most recently coached the Wisconsin freshmen. She was a four-time Pac-10 champion and two time NCAA Champion during her career at Washington, including a win at Henley in 2000 in the seven seat of the varsity (photo). If the Minett part sounds familiar it is - Nicole is married to fellow Washington oarsman Charles Minett '03. Congratulations Nicole and welcome back! Nicole Minett (Borges) Joins Coaching Staff :: Former Rower Returns to Washington.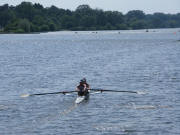 8/1: More news from U.S. Nationals: Three Huskies representing the NW Development Camp competed at the US Rowing Club National Championships in Camden New Jersey, July 17-20. Hans Struzyna '11 and Casey Dobrowolski '11 took 1st in the senior pair, and 2nd in the intermediate pair. Dane Robbins '10 and Mike Buckhouse (Oregon State) took 3rd in the senior pair. The photo on the left is of Hans and Casey on the Camden course. Congratulations Huskies!

7/26:Teti To Replace Gladstone at Cal
Mike Teti, long time U.S. Men's National Team coach and friend of Washington Rowing, will be the new head coach at Cal beginning this fall. Congratulations Mike and see you on the Cut next spring! Teti to Lead Cal Men's Crew

7/24: Washington Alums also enjoyed success at Henley this year - Ed Ives '83 was a member of the victorious Crabtree/Kent Mitchell RC 8+ that won the C event of the Henley Veteran Regatta. The event pitted old Olympic foes against each other: 5-time Olympic Champion Sir Steven Redgrave was a member of the Molesey crew that raced in the final of the event. More here - Henley Veteran Regatta | Amateur Rowing Association

7/22:Golden Summer for Washington Athletes, Coaches
Callahan's U.S. Team wins U-23 gold; Didier, Snyder golden in Germany; Crothers, Jacob, Gibson, Connolly, McCabe, Aylard golden at Henley, silver in Brandenburg; Martelli and Browning golden at U.S. Nationals... Congratulations Huskies!

| | |
| --- | --- |
| | |
| The University of Washington was represented at the U-23 World Championships by Chris Aylard (Henley Grand Challenge champion, Canada silver), Katelin Snyder (U.S. gold), Blaise Didier (U.S. gold), Samantha Smith (Canada), Michael Callahan (coach, U.S. gold), Will Crothers (Henley Grand Challenge champion, Canada silver), Stephen Connolly (Henley Grand Challenge champion, Canada silver), Erika Shaw (Canada), Conlin McCabe (Henley Grand Challenge champion, Canada silver), Anthony Jacob (Henley Grand Challenge champion, Canada silver), Rob Gibson (Henley Grand Challenge champion, Canada silver) and Nenad Bulicic (Serbia, not pictured). | Left to right, Jen Park UW'10, Michaela Strand (Princeton), Alison Browning UW'10, Adrienne Martelli UW'10, Rachael Powers UW'09, and Lia Prins UW'09 competed at the U.S. Nationals from the Olympic Development Camp, all making the senior 2- finals (out of 17 entries), with Browning and Martelli picking up gold in both the Intermediate 2- and Senior 2- events. |

7/20: Callahan Coached USA U-23 M8+ World Champions
Canada Silver; Didier World Champ w/U.S. M8+
Snyder Wins Gold in USA W8+
Shaw 4th in Canada W8+; Bulicic 6th in Srb M4+
Results: The World Rowing Web Site - Results/Current Event Results

7/8: Whipple 8+, (Mickelson) Cummins 8+,2-, Kalmoe 2x, Lanzone 4-, Gault 4x, Newlin 4-; Gibson (alt), Calder 2-; Kusurin 2x; Geyser 1x to 2008 Beijing Olympics
Husky Rowers Realize Olympic Dreams :: The Olympic rowing slate begins August 9 and continues until August 17
USRowing 2008 Olympic Team; Rowing Canada - 2008 National Team - Olympic Nominations

7/6: Canada U-23 Wins Henley Grand
Crothers, Jacob, Gibson, Connolly, McCabe - all current or incoming Huskies - win marquee event at Henley, defeat USC's Estonian Crew
Canadian Team Loaded with Huskies Wins at Henley :: Six Huskies part of eight-man crew which defeated USC in the final

7/3: Crothers, Jacob, Gibson, Connolly, McCabe, Aylard (Can 8+); Bulicic (Srb 4+); Didier (U.S. 8+) to Men's U-23 Worlds
World Rowing Website - Men's U-23 Line-ups (pdf)
Rowing News - U.S. Men's U-23 Team Announced

Snyder, Smith, Shaw to Women's U-23 Worlds - World Rowing Website - Women's U-23 Line-ups (pdf)
Eleven Husky Rowers Competing at World U-23 Championships :: Grand Challenge Cup Winners Look to Repeat for Canada
7/08: Erin O'Connell '96, former UW coxswain and coach, has been named interim Athletic Director at Seattle Pacific University. Congratulations Erin! Seattle Pacific names O'Connell interim AD
6/24: More with Mary Whipple: Deirdre's Diary - 10 Questions With Mary Whipple
6/12: Anna (Mickelson) Cummins '02 and Portia McGee, wife of Washington men's frosh coach Luke McGee, won the women's pair event at the U.S. Olympic Team trials today, earning their way onto the 2008 U.S. Olympic team. Congratulations Anna and Portia! Local rowers make Olympic team | Seattle Times Newspaper
6/10: Pac-10 Awards are announced as follows:
Ashley Jones - All Pac-10 First Team

Also - Twenty Huskies Receive Arthur Ashe Jr. Sports Scholar Awards :: Award inspired by former tennis great

Jesse Johnson - All Pac-10 First Team
Will Crothers - All Pac-10 First Team
Toby Dankbaar - All Pac-10 First Team
Husky Men Sweep Pac-10 Awards :: Callahan named Men's Coach of the Year; Allen Rower of the Year; Didier Newcomer of the Year
6/10: Good feature (with video) from local Seattle NBC affiliate KING TV on the UW Rowing Team's Olympic connection - UW's Montlake to Beijing Rowing Pipeline
6/05: Check out the World Rowing athlete-of-the-month for June: Mary Whipple with a great interview - The Official World Rowing Web Site - Athletes / Athlete in Focus
6/03: US Rowing today announced that Megan Kalmoe '06 has been nominated to the U.S. Olympic team (USRowing) based on her performance at the 2008 World Cup in Lucerne in the double (2x). Megan becomes the 13th Husky all-time to be named to a women's Olympic Team, and with U.S. Olympic Committee approval will compete this summer for the U.S. in the 2x in Beijing, with teammate Ellen Tomek. Congratulations Megan! Read some of Megan's blog, on her experiences this year, here - Megan Kalmoe's blog | Row Coach Media. Seattle Times 6/8 article here - Olympics | Notebook | Ex-UW rower booked passage | Seattle Times Newspaper
6/01: A number of Washington alums graced the medal stand today at the second Rowing World Cup at Lucerne, Switzerland. For the U.S., Mary Whipple won gold in the eight, with Scott Gault also winning gold in the men's quad (World Rowing - Official Website - News). Dave Calder also picked up a gold medal, winning the men's pair for Canada, with Rob Gibson finishing 3rd in the B final in the Canadian 4-. Giuseppe Lanzone and Brett Newlin won bronze in the mens 4-, as did Anna Mickelson and Portia McGee (wife of UW men's frosh coach, Luke McGee) in the women's pair. Megan Kalmoe finished 4th in the women's double, and via this performance picks up a bid to the 2008 Olympics, which she has until Monday, 6/2 to accept. Congratulations Huskies on a spectacular World Cup performance!
5/30: The University of Washington has announced that the 1997 IRA Champion Men's Varsity Eight, and the 1997 Women's NCAA Champion Team, will be inducted into the Husky Hall of Fame November 14th, 2008. The last weekend of May,1997 remains one of the more remarkable in the long history of Husky Crew, with the men sweeping the IRA on Saturday, and the women winning the V8 and team championship at the NCAA's on Sunday. The combined IRA/NCAA National Championship became the first in the program's history and earned these teams entry into the Hall of Fame. Congratulations Huskies! Washington Announces Newest Husky Hall of Fame Class :: All-Americans, National Coach of the Year and National Champions Comprise Hall's Class of 2008.
5/08: Peter Dembicki '02 (4-), Dave Calder '01 (2-), and Max Lang '09 will join teammate Rob Gibson '09 (see below) on the Canadian World Cup team (Calder, Dembicki, Gibson, Lang named to '08 Canadian World Cup Team - pdf). Lang has been named as a spare to the sweep team, while Dembicki joins Gibson in the four and Calder rows the pair. Now that they have made the team, these athletes can now focus on qualifying their respective shells to Beijing. Congratulations Pete, Dave, Robbie and Max!
5/06: Kirby Walker, retired Washington Rowing Steward and friend of Husky Crew for over 40 years, passed away April 29th at the age of 90. Introduced to the sport when son (and current Rowing Steward) Dee first stepped into a shell in 1966 (followed by son Bill), Kirby became a mainstay at the crewhouse over the years, presenting a unique perspective to the program as a Steward. For those newer to the program who didn't get the chance to meet this remarkable man, here is an article from a few years ago that talks about his experience as a Marine landing on Iwo Jima in 1945 (after which he was awarded the Bronze Star) - Seattle P-I: Iwo Jima hurled four young men into battle. Regarding missing the Windermere Cup, son Bill said "I know he'll be there watching the races. And I know without a doubt he'd want me to say, "GO DOGS!" The Husky Crew family extends it's deepest sympathies to Dee and Bill and the Walker family.
The memorial service for Kirby will be June 6 at the University Congregational Church at 4:30 p.m.
4/27: Megan Kalmoe ('06), with teammate Ellen Tomek won the NSR #2 2x, while Bryan Volpenhein (asst coach '04, '05) with teammate Jason Read won the 2-. The wins qualify the crews for World Cup races this summer, and the opportunity for continuing to Beijing and the 2008 Olympics. More here - Four Crews Take First Step Towards Beijing at National Selection Regatta
4/22: Rob Gibson has been named to the 2008 Canadian 4-...one step closer to Beijing - Rower eyes Beijing berth; Gibson's crew still must qualify
4/9: Erin Lauber (Class of 2012, daughter of former UW rowers Madeline (Hanson) and David Lauber) was recently named to the All-State Volleyball Roster for Class 4A/3A. She will participate in the all-state series on July 19th at Fife High School.
3/23: John W. "Jack" Rigsby passed away March 6, 2008 in Spokane Washington at the age of 76. Jack graduated from the University of Washington in 1954 with a degree in Business Administration and was senior manager of the 1953 Husky rowing crew which won the Jim Ten Eyk trophy at the '53 IRA's.
3/01: Anna Mickelson has a new website and a new name. Anna was married in December to fellow Husky Bob Cummins (see '97 IRA Champions), and will now race as Anna Cummins. Congratulations Anna and Bob! Follow Anna's journey here - Mickelson Crew: Web Diary: one of the more recent diary entries talks about a "massive personal record" on a 6k erg; those who have followed Anna in the past, maybe the only thing to add here is 'wow'
2/27: Anna Mickelson in Sports Illustrated: Olympics - Olympic Training Towns: Princeton, N.J.
2/24: As part of our winter '08 re-design we are changing our official name from huskycrew.com to huskycrew.org to better reflect the non-profit status of the Washington Rowing Foundation and the Washington Rowing Stewards. Since inception, the huskycrew website has been an effort put together by volunteers under the umbrella of the Stewards and WRF. The .com suffix was easier to identify early in the existence of our site, but now that .org is globally recognized as defining non-profits on the web, the time is right to make the switch. Huskycrew.com, typed into your browser or saved in favorites, will continue to point to the site.
2/19: Montlake Cut - Women: Photos
2/09: Lake Washington Turnout - Men: Photos/Video
2/01: VBC Banquet tickets available online at shop.huskycrew.org
2/01: New Oak Tree Honors 1936 Gold Medal Crew
From Judy Willman, daughter of Joe Rantz: "For any of you who don't know the background of this story, back in '36 there was a small oak tree awarded to each gold medal winner (one per event). Dad wound up bringing this tree back from Germany because he was the only one coming directly back home. The tree thrived, but the University moved it several times and eventually it gave up and died. Dad always regretted that... anyway, when we received money after the service to go toward a plant in our garden in memory of him, it occurred to me that the thing that he would really have liked to see planted was an oak. I talked to the crew coach, Bob Ernst about it and he ran it past the UW arborist..." Photos from the oak planting honoring Joe Rantz and the '36 Olympic Team -
| | | | |
| --- | --- | --- | --- |
| | | | |
| | Judy with Luke, Erica, Michael and Bob. | | Judy in front of the new oak, planted in honor of her father and the '36 Olympic crew. |
1/23 - Katelin Snyder and Mariners all-star pitcher J.J. Putz at the P-I Sports Star of the Year Banquet January 23rd (photo Ellen Ernst). P-I Sports Star Award Winner: Katelin Snyder - congratulations Katelin!
1/7/08: San Diego Training Camp Photos
12/13: UW's Bob Ernst is Rowing News Coach of the Year :: Husky coach honored among international crew community
12/7: Washington Women's Crew Signs Eight Athletes :: Huskies gather impressive recruiting class - and the alum/friends website would be remiss not to note that included in this class is the daughter of Dave and Madeline Lauber, both class of '81 and both standout rowers at Washington (Madeline is in the UW Hall of Fame with the '81 Natl Champs; Dave was a member of the '81 team that won the Ladies' Plate at Henley)

11/3 - Washington Women: Pumped Up
The Washington Women on Saturday morning 11/3 - more photos here - 2007 Fall

Husky friends and alums will want to read Blaine Newnham's 10/28 column: Everything rowing along swimmingly for UW crew teams | Seattle Times

Washington Tradition
Message for the Class of 2011


"I started in rowing as a freshman - Joe Rantz was the one that I got to know pretty well because we were both going into engineering. We both walked down to the boathouse and turned out for rowing at the same time. [As a team] we were just very close. We all hung in there together… and [as teammates] they were fantastic, just absolutely fantastic." - Roger Morris '37, 4-time IRA National Champion and Olympic gold medalist, 1936
"I vividly remember getting my first unisuit…and to be a part of all of the pictures I had seen on the walls at the boathouse and to be a Washington Husky…it was so amazing, we were now a part of this bigger thing. To be a part of something like that - once everyone puts all of themselves into it and you're part of that - then you become something bigger than yourself, which is more powerful than you by yourself, and you can accomplish great, great things." - Anna Mickelson '02, 3-time NCAA Champion and World Champion, and Olympic silver medalist, 2004
Roger Morris, 2nd from left, stands with his frosh teammates in the spring of 1934. Morris walked down to the boathouse on the first day of turnout in October 1933 with Joe Rantz, seen 3rd from the right in this photo. Here is what Roger had to say this week - 74 years later - about his experience with Washington Rowing:

Roger Morris '37 and Washington Rowing (audio mp3 file, 2 mins)

Anna Mickelson '02, was a walk-on in the fall of 1998, picking up an oar for the first time as a freshman at Washington. Sixth from left in this photo, Anna stands with her teammates from the 2001 National Champion varsity team. When asked if she would say some words to the incoming freshman class, her response was "Anything for the Huskies...":

Anna Mickelson '02 and Washington Rowing (audio mp3 file, 3 mins)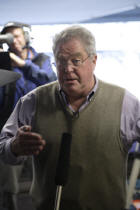 9/27 - Lou Gellerman '58, announced his retirement, effective immediately, from his longtime duties as Husky announcer at the Washington football games. Gellerman, a three-time rowing letterman, 1960 Olympian, UW frosh coach and Husky Hall of Fame Member, will be missed. He will issue one last "Hello Dawg Fans" this Saturday at the USC game - all rowing alums and friends be sure to greet him with one last "Hello Lou!"
10/10 Update - here is a photo of Lou in the booth September 29th. Thanks Lenny O'Donnell - Photo: Jim Tillman/Rough Water L.L.C.


Joe Rantz, '37, four-time National Champion and Olympic Gold medalist, died September 10th. He was 93.

Joe was a powerful and gifted rower, a mainstay in the seven seat in the undefeated varsity shells of his era. Both the 1936 and 1937 varsity shells were dominant; the '36 team breaking the 2000 meter World Record on their way to gold in Berlin, and the 1937 varsity never challenged in going undefeated that year.

Joe was honored with a standing ovation at the 2007 VBC Banquet, as he sat at a table directly below the seven seat of the Husky Clipper, the shell he rowed to victory in Berlin 71 years earlier. It was a fitting tribute to a man who highly valued the experience and brotherhood of Washington Rowing.

The Washington Rowing family would like to extend our deepest sympathies to Joe's family and friends on the loss of this exceptional man.

Joe Rantz Memorial Service
1:00 pm Saturday, September 29, 2007
Lake Forest Park Presbyterian Church
17440 Brookside Blvd. N.E.

More on Joe is here - Huskies | Obituary | Undefeated UW rower earned gold | Seattle Times Newspaper

Read about the 1936 crew - Washington Rowing History - Men: 1930's

9/10: An excellent profile of Senior Drew Fowler, who traveled with the team to Moscow - Campaign Newsletter - CAMPAIGN UW: CREATING FUTURES - University of Washington Foundation
9/2: World Championships, Munich: Anna Mickelson, Mary Whipple win gold in USA Women's 8; Deakin, Burns golden in USA 4+; Canada wins Men's 8, USA 4th; lots of familiar faces over at Row2k, with an interview with Mary here: row2k Coverage: Mary Whipple; Interview with Sam is here: row2k Coverage: Sam Burns. Congratulations Huskies!
9/1: World Championships, Munich: Portia McGee (wife of new men's frosh coach, Luke McGee) wins gold in Women's 4- for USA; Ante Kusurin '06 wins 2nd Final in 2-, qualifies for '08 Olympics for Croatia; Larson, Volpenhein, Lanzone, miss medal stand but qualify USA boats to '08 Olympics...

9/1: Washington Wins in Moscow: More here - 2007 Moscow Race of Champions

8/22: Luke McGee has been named the new men's freshmen coach replacing Michael Callahan. Luke, a mainstay in the Brown varsity boat from 1999 - 2001, is a former Henley and world champion (both U-23 and at the Elite level in the U.S. men's four), and rowed for Oxford in their victorious crew in the 2002 Boat Race. Luke has been the frosh coach at Brown for the last three years, his crew finishing second at the 2007 IRA's. Welcome to Washington Luke! More here - Luke McGee New Men's Frosh Coach

8/16: Husky Alums and Friends will want to check out the latest "Fans and Friends Guide" from the UW Compliance Dept. This is probably the best informational piece yet on the do's and don'ts of a fan or booster, particularly as it relates to entertaining prospects or current student-athletes. For those of you close to the team or even part-time fans, this is a straightforward and well-written summary that we should all take the time to read - Huskies-Boosters-Fans-Friends-.pdf

8/5: Huskies named to 2007 National Teams to compete at the World Championships 8/26 - 9/2 in Munich: U.S. - Sam Burns '04 (4+), Matt Deakin '02 (4+), Bryan Volpenhein '04-05 Varsity asst. Coach (4-), Giuseppe Lanzone '05 (4-), Kyle Larson '05 (2-), Mary Whipple '02 (W8), Anna Mickelson '02 (W8), Brett Newlin '05 (M8); Canada - Pete Dembicki '02 (4-) Rob Gibson '08 (4-); Croatia - Ante Kusurin '06 (2x), Roko Svast '10 (M8) Congratulations Huskies!

7/29/07: Snyder, Sooter Win World U-23 Bronze
UW Duo Collects Bronze Medals with U.S. Women's Crew :: Callahan-coached American men's eight places fourth

7/13: Bob Ernst Named Women's Coach; Callahan to Coach Men
Listen: Bob Ernst talks about the coaching transition and his new role as Women's Varsity Coach (4 min, mp3)
Listen: Michael Callahan talks about the tradition at Washington and his new role as Men's Varsity Coach (4 min, mp3)
Ernst: "I'm looking forward to the year when we win the IRA and the NCAA on the same weekend again..."
Ernst Returns to Helm of Women's Crew, Callahan to Coach Men :: Huskies fill women's vacancy with former head coach

June 13, 2007 - The University of Washington has announced that Women's Head Rowing Coach Eleanor McElvaine will not be returning for the '07 -'08 season - Huskies Conduct Search For New Women's Rowing Coach

Eleanor leaves the Washington rowing program after serving for seventeen years as a coach. Prior to becoming head coach in 2003, she served as the novice coach under Jan Harville. A Washington Hall of Fame member, she was a mainstay in the six-seat of the varsity eight from '83-'85, winning three straight national championships. "I have the utmost respect for Eleanor, who has put an indelible stamp on the Husky program both as a student-athlete and coach" said Athletic Director Todd Turner.

A committed athlete and coach, Eleanor was and always will be a true Husky. Huskycrew and all associated with the program wish her the best.

Welcome Home Huskies!
| | | |
| --- | --- | --- |
| June 5, 2007 - A packed Conibear Shellhouse welcomes home our 2007 National Champions... | | The Varsity holds the Challenge Cup high at Conibear - click on the image for video of the celebration. |
| | | |
| | | |
| Open 4+ | Frosh 8 | 2V8 |
Celebration Honors Husky Crew: Large crowd turns out to recognize UW rowers
A big, hearty welcome back for UW crew | Seattle Times

5/22/07 -

Bob Ernst Named Pac-10 Coach of Year; 5 Huskies Make First Team All-Pac-10
UW's Bob Ernst is Pac-10 Men's Coach of the Year :: David Worley honored as conference newcomer of the year

Aljosa
Cara
Robbie
Dave
Katelin


5/21/07 - Cara Troelstra Named to the CRCA All-Region Rowing Team :: Senior rower will stroke the varsity eight this weekend at the NCAA Championships - Congratulations Cara!
5/18/07 - The christening of the "2007", previously scheduled for Saturday morning (5/19), has been postponed due to scheduling conflicts. The new date/time will be posted here once the event has been rescheduled.
5/15/07 - The Washington Women have received a team bid to the 2007 NCAA's in Oak Ridge TN: More - NCAA selections released - NCAA Sports.com; UW Women Receive NCAA Rowing Championships Berth :: Huskies one of three teams to qualify for every NCAA regatta

5/02/07 - Windermere Cup Live Webcast - The Windermere Cup will be live webcast on GoHuskies/All Access Saturday, May 5th, from 11:00 a.m. to 11:45 a.m. (or until the last race finishes). Announcers for the event will be Al Erickson '82, and Erin O'Connell '96.
You will need to sign up (email address and password) with All Access. Those that watched the Windermere Classic from Redwood Shores a few weeks ago should be able to use their login and password from that sign-up. For those signing up new, the process is relatively simple, and you will be cued to sign in at the link below.
Here is the link to the All Access Windermere Cup coverage - All-Access - Crew - College Sports Broadband Channel. This first year we will have one camera shooting the last 300 meters of each covered race. Here is what the coverage will likely look like (video from last year): Video- 2006 Windermere Cup MV8
You will need a broadband (cable) connection and a windows system to view the video from that link. Cable users with a Mac should be able to view via this link (copy and paste into browser): mms://a660.l2682944698.c26829.g.lm.akamaistream.net/D/660/26829/v0001/reflector:44698
Radio coverage will begin at 10:30 a.m. and can be heard on the web here - KJR-AM: listen. Hope to see you at the Stewards' Enclosure - but if you can't make it there, our live webcast should be the next best thing!


4/08/07 - Congratulations to all of our newest rowing letter-winners - it's been a long time coming and very well deserved! Sports | Letter-perfect day of validation for former UW athletes | Seattle Times Newspaper
4/07/07 - Cambridge wins Boat Race...Oxford starts strong, leads through the first two miles, but the favored Cambridge crew has more in the 2nd half, leading at the three mile mark and winning in 17:49 to Oxford's 18:02... Washington graduate Ante Kusurin, Oxford's stroke, said: "We died there, we left our hearts out there. We fought to the end and I'm proud of the guys. Cambridge had a great race and I would like to congratulate them for that." The Oxford and Cambridge Boat Race.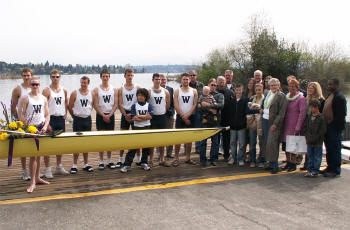 4/04/07 - The Chuck Holtz, the newest addition to the Washington fleet, is christened on the apron of Conibear. A gift from teammate Jon Runstad, the christening was attended by the Holtz family and many of Chuck's classmates. For more on Chuck Holtz, see 1960's in the history section.
3/31/07 - Alums and Friends note: The newest shell Chuck Holtz will be christened at the Shellhouse, on Wednesday, April 4th at noon. All are invited.

3/31/07 -

Washington opens the season at the Husky Open - results and photos here - Race Results
3/24/07 - Dan Morken has put together a video of Ante and friends rowing in the 2005 Class Day race - check it out here - goldmedalfilms.com - 2005 CD Race.

3/14/07 - Washington's Ante Kusurin is sitting in the stroke seat of the Oxford eight preparing for the Boat Race April 7th. More here - The 2007 Oxford and Cambridge Boat Race - this race will be televised live on ESPNU - more here - ESPNU at the Boat Race.

3/12/07: We will be periodically updating our alum "where are they now" page - click here to see the latest - Alumni Update Page.
1/15/07:
| | | | |
| --- | --- | --- | --- |
| | | | |

11/05/06: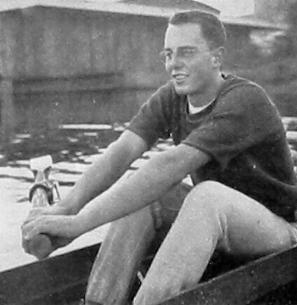 It is with profound sadness that we report that Fil Leanderson '53, Washington men's head coach from 1959-1967, varsity captain and stroke-oar and 1952 Olympic Bronze medalist, passed away November 2nd, 2006.
Fil was as tough as they come, and an accomplished oarsman. "He was a fierce competitor," said his 1952 Olympic teammate Al Rossi, "but it was his rowing ability that helped carry us in the Olympics". Stuck in Helsinki without a coach, it was Leanderson who emerged to help "self-coach" the squad. More about that race is here - 1950's.
It was through that experience and his passion for the sport that Fil first coached at MIT, then was hired as freshmen coach by Al Ulbrickson in 1956, ultimately succeeding Ulbrickson in 1959 to lead the Washington program. In his nine years as Washington head coach, his crews dominated the west coast and won multiple team championships at the IRA's, the Challenge Cup being the only trophy there to elude him. After leaving Washington, Fil coached at Western Washington University from 1977 to 1993, leading that team to a number of small college championships. Fil is a member of both the Husky and WWU Viking Hall of Fames.
Fil will be remembered as a man of character, and as a true Husky. "Above it all" said Rossi, "Fil was very loyal. He was a quiet, good man." The Washington rowing family extends our deepest sympathies to the Leanderson family and to the friends and teammates of this Washington rowing legend.

Anna Mickelson and Brett Newlin named US Rowing Athletes of the Year - more here - USRowing
Two Former Huskies Named 2006 USRowing Athletes of the Year :: Brett Newlin and Anna Mickelson honored as top male and female athletes of the year. 10/18/06

The Husky Crew family is saddened to hear of the passing of Andy Sudduth, a remarkable Harvard oarsman who rowed on a number of U.S. National Teams throughout the 80's, and as such became friends with many of us here at Washington. Our condolences and thoughts are with Andy's family and friends. Andrew Hancock Sudduth Memorial Website - Biography - November 21, 1961 - July 15, 2006 7-20-06
Congratulations to our Washington athletes rowing this summer on the U-23 National Teams - Eight UW Athletes, One Coach to Compete in Belgium :: Michael Callahan to coach U.S. men at U-23 World Championships 7-15-06


W. Hunter Simpson, longtime VBC member and Rowing Steward, passed away January 20th of heart failure. Simpson was an active participant in Washington Rowing, from his college days at the old boathouse on the Montlake Cut to his recent gifts to the shellhouse renovation. Even at the peak of his career as CEO of Physio-Control, it was not unlike Mr. Simpson to drop everything at one of his lakeside parties and jump into the coxswain's seat of a passing shell. A strong yet humble presence defined Mr. Simpson, and his passion for the sport of rowing and the University will be greatly missed. Our sincerest condolences to the Simpson family and the many friends he had throughout the University community. 1/23/06


Hey Class of 81, 82, and everyone we know - it's time for a reunion! Charlie Clapp is taking the lead on it - but see you in Seattle Class Day weekend, 3/17-19. The central event will be planned around the VBC Banquet Saturday night, March 18th. More information here - Class of 81, 82 etc. Reunion 1/15/06


Class Day weekend is moved up a week this year to March 18th and 19th. The VBC/Awards Banquet will be Saturday night, March 18th, with Class Day on Sunday the 19th, including the Cruise with Croissants, Class Day races, and free BBQ. Put these dates on the calendar today! 1/15/06
Husky Rowing Legends to Attend Olympic Dream Golf Classic : 1936 gold medalists Roger Morris and Joe Rantz to be honored

Bryan Volpenhein (left) and Matt Deakin (right), here celebrating after winning the Windermere Challenge last May - are today celebrating World Championship gold in the U.S. Men's 8+. In addition, 2005 Washington graduate Brett Newlin won silver in the men's 4+, and Pete Dembicki ('02) won bronze in the men's 4- for Canada. Other Washington rowers at the Worlds' included Jon Burns ('02), Sam Burns ('04), Ante Kusurin ('06) (rowing for Croatia in the 2x), Rika Geyser ('01) (South Africa, 1x), Laurie Dauphiny ('84) (U.S. W8+ coach), Mary Whipple ('02) and Anna Mickelson ('02) - read more about the World's here - row2k Coverage: 2005 World Championships and here and here - Three Former Huskies Collect Medals at World Rowing Championships :: Deakin, Newlin & Dembicki stand on victory platform - 9/4/05.

Keep an eye here this week - row2k Coverage: 2005 World Championships - to watch some familiar names participate in the World Championships in Gifu, Japan. 8/30/05
Jim McMillin '37 (left), sharing a laugh with fellow Olympic Champion George "Shorty" Hunt when this photo of the 1936 "Big W Club" was snapped, died earlier this week at the age of 91.
McMillin rowed in the five seat of the '36 Olympic crew, anchoring the 'engine room' with his 6'6" frame. After his career at Washington, he spent 17 years as head coach at MIT, before returning to Seattle and his home on Bainbridge Island. His most memorable quote, after the Olympic win, was "...if I ever work that hard again, I'll make a million bucks." McMillin remained proud of the '36 crew achievement, even as recently as this June wearing his medal as a new shell was dedicated in his honor at the Bainbridge Rowing Club. The Washington Rowing community would like to take this opportunity to extend it's condolences to the McMillin family. More on the '36 crew is here - 193o's. 8/24/05

Congratulations to Mercer Island's Jesse Johnson - six seat in the U.S. men's junior eight that won the world championships 8/6. Jesse will be rowing at Washington next year for Mike Callahan, pictured earlier this year with his crew. Sorry we don't have a picture of Jesse in our archives yet, but looks like we may get plenty in the years to come. Congratulations to Jesse and his family. By the way, the last U.S. junior eight crew to win gold at the world championships? 1992, the year Mike Callahan rowed in the seven seat. 8/6 Link - row2k News: Junior Men's Eight Golden at 2005 Junior World Rowing Champs

Washington has been invited to participate in the "Great Race" September 10th, 2005, in Hamilton, New Zealand. Similar to our Opening Day, crowds line the banks of the Waikato River to watch the Waikato University crew take on international competition. In 2005, that will be Washington! More here - Great Race. 7/6/05


Congratulations to Kyle Larson and the twenty other student-athletes of the Washington Rowing team that made the All Pac-10 Academic Team - more here - UW Places 21 Huskies on Crew All-Pac-10 Academic Team: Kyle Larson earns first-team recognition for third straight year. 6/25/05

If you can't make it down to the races, the Windermere Cup will be covered by Jamco here --> JAMCO - 2005 Windermere Cup Regatta Index of Results 5/2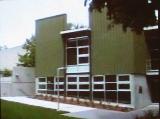 Take a 45 second video tour of the new shellhouse - it's an amazing building! More pictures here - Shellhouse. 4/30


Get on down to the Steward's Enclosure on Saturday, May 7th, and enjoy the races from the grandstands with fellow Husky fans. Admission is $10, and includes continental breakfast, beverages and just about the best seats in the house. The Enclosure opens at 9:00 a.m., with races to begin at 10. More information is here - 2005 Windermere Cup Steward's Enclosure. 4/29

The "Spirit of '58" will be christened at noon Friday, May 6th, on the apron of the new shellhouse. All alums, friends, and parents are invited. Click here - Washington Wins in Moscow - to watch the video including John Sayre describing that race. 4/29

The 2005 season gets officially underway at Redwood Shores 4/9-4/10. Follow the races live at Jamco Times here - JAMCO - 2005 Windermere Collegiate Crew Classic Index of Results 4/4

Check it out - those are shells going into the new shellhouse! No, it's not done - but it is done enough to get some of the shells inside. Only a few more months to go...

If you missed this in our new Audio/Video section, be sure to listen to Bob Moch's description of the 1936 Olympic final here - 1936.
More accolades for our Washington Olympians - Mary Whipple, Anna Mickelson, Matt Deakin and Bryan Volpenhein were all P-I Sports Star of the Year nominees. Read more here: Anna Mickelson, Lianne Nelson and Mary Whipple, Olympic rowers; Matt Deakin and Bryan Volpenhein, rowing. In the interest of clarification, Mike Callahan, who went to Athens as a spare to the Olympic team, is actually the men's frosh coach, while Bryan assists Bob with the varsity. But thank you P-I for recognizing these exceptional athletes! 1/26/05

Here is the latest shot of the shellhouse - as of mid-January and still on schedule for a spring opening! 1/26/05

"I think they were the best rowing crew that ever existed..." said Bob Moch of the eight oarsmen in his Washington varsity crew that won the gold medal under Hitler's nose at the 1936 Olympics. Although his statement may be debated by some, there is no surprise that he said it - Moch not only knew this crew better than anyone, he was also fiercely loyal to his teammates to the end.
Bob passed away January 18th at the age of 90, his sharp wit, even as his health was failing, a testament to the tough and gritty man he was. The quintessential coxswain, Moch weaved those characteristics in with a mixture of confidence, instinct, and intelligence (he had the highest gpa among the team three years straight) that created an equal loyalty among the men that stared back at him every morning.
Moch went on to coach at Washington and MIT, and later pursued a legal career, but he never forgot his roots. Throughout the 70's and 80's he was often the lead referee at the Opening Day regatta, and in his later years could still be seen standing on the Cut watching the races in his purple and gold jacket.
Bob will be missed not only by his teammates, but by the entire Washington rowing family. To his immediate family we offer our deepest condolences.
You can read more about Bob, and the legendary crew that he skippered, in our history section in the 1930's.
More on Bob Moch - The Seattle Times: Olympics: Huskies rowing great Moch dies
Bob Moch, 1914-2005: Montesano man directed Huskies to gold-medal glory
1/22/05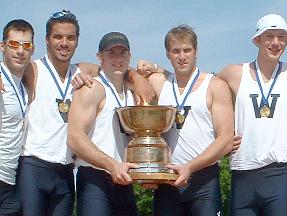 Everyone at Washington Rowing thanks our friends and alums for supporting the team in 2004 - the 2005 season is right around the corner! Go Huskies!


The Husky men's and women's eights swept the 1V, 2V, and 3V eights events at the annual Head of the Lake Regatta, as well as finishing 1-2-3 in the men's 4+ event. Here are the results - HOL 2004_Results



The 2004 Head of the Lake Regatta is Sunday, November 14th. Racing will be from 8:00 a.m to 9:30 a.m., and from 11:00 a.m. to noon. Here's a note from the VBC Commodore: "The 2004-2005 Varsity Boat Club will set up a tent on the Northwest end of the Montlake Cut to encourage Husky Crew Fans to come show their support at the Head of the Lake Regatta. This will be a great meeting place for family, alumni, and friends during Sunday's races. See you Sunday! GO DAWGS!"


The 1970/71 men's varsity were inducted into the Husky Hall of Fame November 5, 2004. Read about these amazing years here - 1970's.



A couple of terrific pictures of the Olympic Champion U.S. men's eight in Athens. The UW's Matt Deakin is in the five seat, fifth from right in the team picture. Thank you Jim Pugel.



Hello all!! Here is the latest aerial photo of the new crewhouse. It is
"BEAUTIFUL", big, on schedule, and on budget. This project cost eighteen million dollars and we have raised seventeen - WE ARE ON THE LAST MILLION!!!!!!

A benefactor has offered to MATCH any new gifts over five thousand dollars
up to a quarter of a million! There are plenty of great naming opportunities still available.

If you want to contribute....or have friends that would like to help, great
ideas, or whatever, let's get this done now. Thank you -
Bob
More information on the shellhouse project is here - Shellhouse
If you are interested in donating or for more information on the special matching program currently in effect, call Bob at 206-543-2136. (9/21)

This is what a gold medal from the Olympics looks like (from the 1936 Olympic team), and one very much like it is in the hands of Matt Deakin ('02) today after the U.S. Men's Eight won in Athens. Congratulations to Matt, and to Mary Whipple ('02) and Anna Mickelson ('02) who won silver in the Women's eight. Here are some articles: Seattle P-I: Pride on the water in Athens; Former Husky Matt Deakin Wins Rowing Gold Medal :: Anna Mickelson & Mary Whipple garner silver medals. In an Olympic mood? Read about the 1936 team here - Washington Rowing History: 1930's.

The latest (8/17).

Once again we go to the archives to pull out the picture of Matt Deakin and Dave Calder rowing together as Huskies in the 2001 Windermere Cup. In the coming days these two will once again be competing on a world stage, only this time it will be the Olympics in Athens. Follow Dave in Canada's men's pair entry, and Matt, as noted here earlier, in the U.S. eight. Row2k has excellent coverage of the Olympics here: row2k Coverage: 2004 Olympics Games. 8/14

Congratulations to our U.S. National Champions in the pairs, left to right: Coach Ernst, Adam VanWinkle, Scott Schmidt, Scott Gault, and Collin Phillips. Schmidt and Gault won gold in both the Intermediate and Elite Pair events, while Phillips and VanWinkle won gold in the Senior Pair event. Here are a few more pictures at Row2k - Rowing and Sculling for Rowers and Scullers - row2k.com and Rowing and Sculling for Rowers and Scullers - row2k.com. 8/9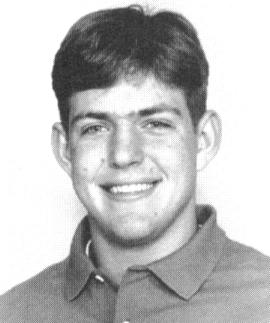 Mike Callahan has been named the men's Freshmen coach by head coach Bob Ernst. Callahan, 1996 Captain and multi-decorated elite international oarsman since, has been named to the 2004 Olympic Team and will join the coaching staff after returning from Athens. Congratulations Mike! Olympian Michael Callahan Joins UW Rowing Staff :: Former Husky returns as men's freshman coach
Mike replaces Fred Honebein, a former Olympian himself who left after the spring racing season finished up in June. Fred coached 5 of 6 of his teams to the finals at the IRA's, earning two National Championships along the way. Thank you Fred for your tireless efforts and best of luck to you in the future!

The latest as of July. 7/27

Five Huskies will represent the U.S. at the 2004 Olympic Games in Athens, including pictured Mary Whipple (W8+), Anna Mickelson(W8+), Matt Deakin (M8+), Erik Miller (spare; also representing the U.S. in the Lightweight 8+ event at the World's), and Mike Callahan (spare). Congratulations to our 2004 Olympians! USRowing Selects Former Huskies for Olympic Team :: Bound For Athens
In addition, Allison DePalma is going to the World Championships in the women's straight 4 (winning the trials 7/9). UW Coach Eleanor McElvaine is coaching the crew. 7/9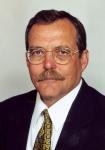 Bob Ernst has been named co-Pac-10 coach of the year, and a slew of Huskies received Pac-10 honors - all well deserved following an impressive year on the water. Congratulations Bob, Greg, Sam, Andy, Giuseppe, Brett, Sanda, Mary and Yvonneke! P-I: Ernst Named Co-Coach of Year.
UW's Bob Ernst is Pac-10 Crew Co-Coach of the Year :: Greg King is newcomer of the year, seven other Huskies honored


Here's the latest update on the shellhouse - with the gazortons at peak health.
Are you on our email list? Get the latest news sent straight to your inbox here --> Mail List.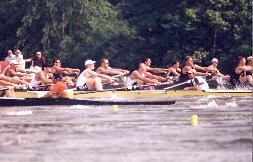 The IRA's are scheduled for June 3, 4 and 5th on the Cooper River in New Jersey. We will have updates at Race Results as they come in.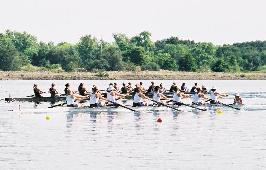 Six members of the Women's varsity squad have been honored by the Collegiate Rowing Coaches Association. Read more about it here - Six UW Women Receive Rowing Honors :: Gemma Edward-Aron Gets Scholar-Athlete Award - Congratulations Huskies!

Follow the progress - here's where the shellhouse was at as of mid-May.

It's Pac-10 Championship time again - watch the splits live on Sunday, May 16th, at Jamco Times - JAMCO - 2004 Pac-10 Rowing Championships Index of Results


Congratulations to the 1970 and 1971 men's team that will be inducted into the Husky Hall of Fame on November 5, 2004. These guys beat the odds in a big way by winning the IRA in 1970 - and in 1971 became the last collegiate squad to represent the U.S. at an international event (silver medal, Pan Ams). But maybe the best part is you won't find a better class of guys to personify what Washington Rowing - and the camraderie built from the sixth boat on up - is all about. Read more about the 1970 and 1971 seasons at The 1970's; also, the following article summarizes the 2004 class of inductees:
Washington Announces 2004 Hall of Fame Inductees :: Kaufman, Kennedy, Jaeger, Smith, Ellis and Crew Teams Honored for Achievements

Remember these guys? Blaine Newnham caught up with them recently and writes about the moment 68 years ago that changed their life - and sports history. Read it here - The Seattle Times: Sports: Nine UW rowers who showed up Hitler in 1936 and won gold Thank you Blaine! Also, check out more photos at Washington Rowing History - 1930's. 5/11/04
Jim Caple from ESPN had a chance to get on the water with Washington - here's his story - ESPN.com: Page 2 - Row for your life!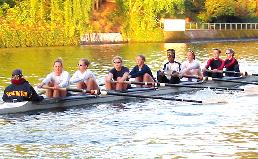 Time once again to gear up for Opening Day! Click here for more on the 2004 event that will include Italian national teams and Navy.
Also, see Race Results for early articles on Opening Day, new pictures from an April turnout, and results from the Cal Dual.

Check out the latest aerial shot of the shellhouse rebuild - click on the picture to expand.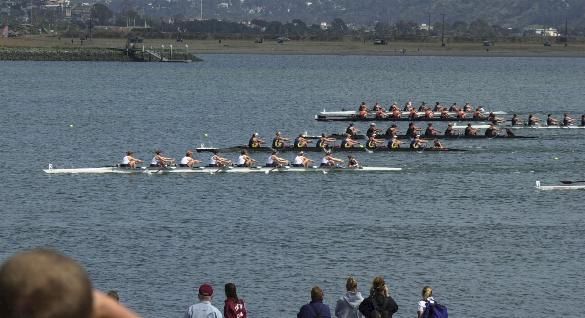 Follow the races at San Diego at Jamco Times - and read more at Race Results.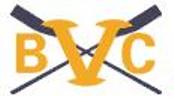 RSVP here for the Men's VBC reception and induction on March 26th at the Pocock Center!!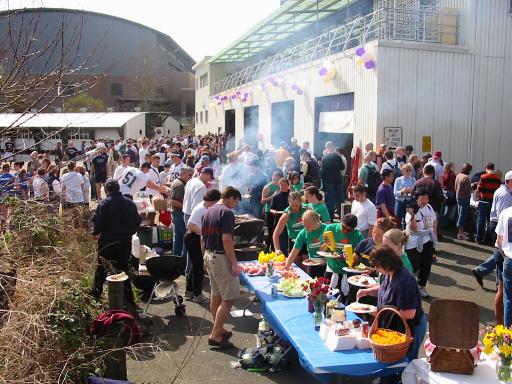 The Class Day Cruise with Croissants and the annual free BBQ will be March 27th. The picture at left, of last year's bbq, is exactly how it will look this year, except the big white building in the background won't be there. We sure could use that 70 degree weather we had last year!
Click here for more information on the cruise - sign up early! --> 2004 Class Day Cruise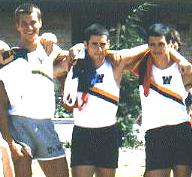 It with sadness that we report that Pete Nicholson, seen here flanked by '83 classmates Ed Ives and Blair Horn, died in a Marine Corp jet accident at Miramar (near San Diego) on Wednesday, March 10th. Our thoughts are with Pete's family and close friends.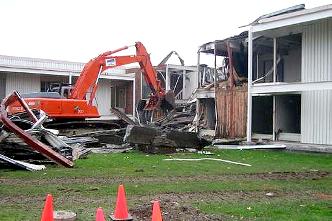 The Connie is no more...long live the Connie! We will keep you posted right here of the tear-down and re-birth of Conibear Shellhouse. Click here - Conibear Photo Gallery - for the most recent pictures. Posted 2/15.
Blaine Newnham has written a couple of columns recently for the Seattle Times that will be of interest to the Washington rowing community. See this column of January 13th to read about the U.S. Women's Team including Washington alums Mary Whipple and Anna Mickelson training in Seattle, and this column of January 18th regarding the new, dedicated 'interim' AD at Washington, Dick Thompson. Note - to read these articles may require signing in with The Times. Posted 1/18.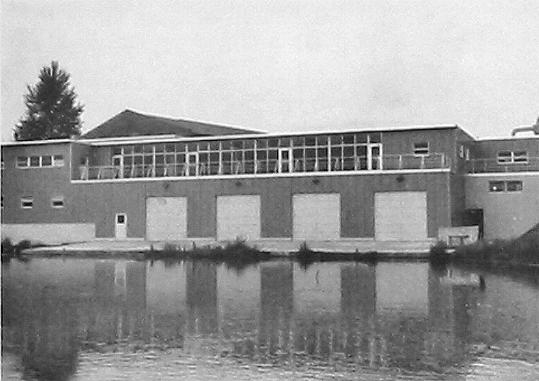 From Dwight Phillips: The first step in the redevelopment of the Conibear Shell House will be evident in mid-January 2004. It's only appropriate that the friends of Husky rowing be given the opportunity to say one last Good Bye to the "Connie" before demolition begins. So…it is time for pizza and refreshments and lots of visiting of old friends up and down the halls of Conibear. Here's the scoop and be sure to pass the word…
Ø DATE: Friday, January 9th 2004
Ø TIME: 6PM until…
Ø Location: Where else…Conibear
The format is casual and loose, like all good crew functions. While we would love to give everyone a sledge hammer to relieve the post holiday stresses, we need to let the professional demo crews do the duty so please be respectful of the building one last time. Put this date on your calendar and spread the word.
If you have questions, call:
Ø Mike Hess, Rowing Stewards Chairman (206) 533-2181
Ø Dwight Phillips, Old 'swain (206) 223-3606
Ø Bob Ernst, Men's Rowing Coach (206) 543-2136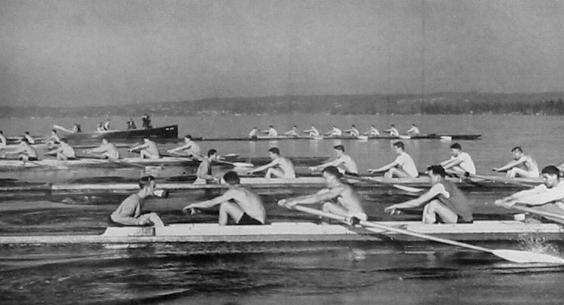 The November 17th Sports Illustrated features an article on rowing in the state of Washington, and particularly the legacy of rowing at the UW - including a picture of these guys from 1949. You can read the article online here, but to see the pictures you need to find a copy of the magazine!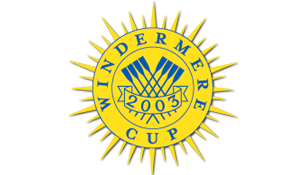 Now seems like an appropriate time to thank Windermere Real Estate for bringing the kind of quality crews to the Windermere Cup each year. In case you didn't notice, the Canadians and Americans finished 1-2 at the World Championships - the same two national team crews that battled down the Cut in May. Nothing like watching the two best crews in the world race at your doorstep - thank you Windermere! (9/2)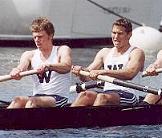 Congratulations 2003 World Champions Matt Deakin (left) and Dave Calder (right), seen here rowing stroke and seven for the Huskies in the 2001 Windermere Cup. Matt won gold rowing for the United States in the 4+, while Dave won his gold medal a few minutes later rowing for Canada in the eight. Congratulations Matt and Dave! Here's a link to the full picture of the two rowing as Huskies ---> http://www.huskycrew.com/20011.jpg. More articles on the World's (including many quotes from Mary Whipple as the U.S. women's eight avoids a disaster and qualifies for the 2004 Olympics) from Row2K --> Rowing and Sculling for Rowers and Scullers - row2k.com. Check in at the Pocock Center for more on Matt (thank you Mike McQuaid) --> George Pocock Rowing Foundation. (8/31)

The McElvaine era begins at Washington September 1, 2003! Actually, the McElvaine era began with three straight national championships in the six seat of the varsity twenty years ago. A couple of decades and a slew of coaching highlights and awards later, and she now becomes the third head women's crew coach at Washington. Congratulations Eleanor! For more information see Eleanor McElvaine to Head Washington Women's Crew. (8/17)


John Stillings, seen here 26 years ago next to the Grand Challenge Cup at Henley, has come out of retirement to land a spot on the U.S. Pan Am Eight. Click here to read more about John and the U.S. team: The Seattle Times: Stillings leads rowers into Pan Am Games. Update 8/10/03: Stillings and his U.S. teammates have won the gold - see USRowing-Men's Eight... for more information and a quote from John! (8/10)

Read about Jeff Jorgenson in Sports Illustrated Online at SI.com - Sports Illustrated -- The Magazine - Wednesday June 18, 2003. Congratulations Jeff!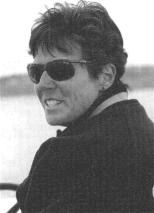 Jan Harville has announced her retirement from the Washington Crew program. Thirty years since rowing as an athlete at the UW, Jan has been the one constant that has seen the program go from club sport to NCAA champion. A recipient of virtually every local and national award out there, it is hard to imagine the crewhouse without her. Good luck Jan in all you do, and thank you for setting the example for the thousands of student-athletes who have had the fortune to be coached by the best!
Article: Harville retiring from UW crew
From GoHuskies 6/16: Jan Harville Retires as UW Women's Crew Coach :: Nine-time Pac-10 coach of the year will step down in September
The Seattle Times 6/17: Harville leaving a lofty legacy